Many of today's jobs require that people be aware of the comings and goings of a good number of colleagues and shared documents.

Researchers from the Fraunhofer Institute for Applied Information Technology (FIT) in Germany have designed software, dubbed AwarenessMaps, that provides dynamic pictorial information about a cooperative environment, including overviews of co-workers and shared documents.

The co-worker overview provides pictures of colleagues who have accessed a document. The pictures fade away over time, providing a quick view of who worked on a document when. The shared document overview shows the structure of a shared workspace and indicates recent changes.

The interface is designed to allow people to be aware of group progress so they can better adapt to their co-workers' actions. This common frame of orientation reduces the amount of explicit coordination required by a group, according to the researchers.

The software can help people keep track of relatively large systems encompassing several thousand users, according to the researchers.

The software is ready for use on PCs now. The researchers are working on adapting it to mobile devices. The researchers presented the results at Association of Computing Machinery Computer-Human Interaction (ACM-CHI) conference in Fort Lauderdale, Florida, April 5-10, 2003.



Page One

Hydrogen storage eased

Flexible display slims down

Simulated evolution gets complex

Model explains market movements

News briefs:
Big qubits linked over distance
Software maps group work
Magnesium batteries show mettle
Nanotubes smash length record
DNA sensor changes color
Sensor serves up body slices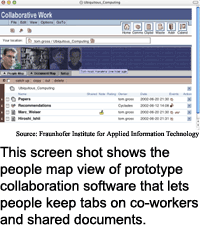 Research Watch blog

View from the High Ground Q&A
How It Works

RSS Feeds:
News

| Blog



Ad links:
Buy an ad link