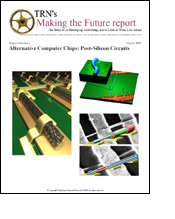 TRN's Making the Future reports keep scientists, engineers, investors, entrepreneurs, IT and corporate decision makers, and policymakers up to date about technologies like nanotechnology, computer interfaces, data storage, molecular electronics, robotics, DNA computing, carbon nanotubes and quantum computing -- technologies poised to make and break business ventures, affect day-to-day life, and shape tomorrow's society.

The reports tell you who to watch and point out key developments to look for as tomorrow's cutting-edge technologies move forward.

Each report examines the current state of a developing technology, organizes key issues and puts them in context, succinctly explains how the technology works, lists key researchers and development possibilities, and presents a tour of recent developments that includes a bundle of key stories from TRN.

Each 30- to 70-page report includes an executive summary, a 2,500- to 5,000-word main report; a 500- to 1,500-word sidebar; a list of 15 to 25 corporate, university, and government researchers to watch; a list of 10 to 20 development possibilities to look for; and a tour of recent developments.

Each report is $89. Annual updates are $100. Packages and site licenses are also available. Reports are in PDF format.

View a four-page sample of the Making the Future reports (pdf).


Making the Future reports

Report

Title

1
Quantum Cryptography: Potentially Perfect Security
2
Data Storage: Pushing the Physical Limits
3
Computer Interfaces: Hands, Eyes, Voice and Mind
4
Alternative Computer Chips: Post-Silicon Circuits
5
Biochips: Handheld Labs and Microscopic Sensors
6
Security: Secrets, Intruders and Free Speech
7
Power Sources: Fuel Cells, Solar Cells and Batteries
8
Computer Displays: Roll Up, Paint On and Shrink Down
9
Self-Assembly: The Natural Way To Make Things
10
Quantum Computing: Prospects and Pitfalls
11
Nanomechanics and Nanoelectronics: Molecule-Size Machines
12
Pattern Recognition Technologies: Getting the Picture
13
Internet Applications: The Emerging Global Computer
14
Internet Structure: The Global Nervous System
15
Robotics: Mobility, Reflexes and Teamwork
16
DNA Technology: Harnessing Life's Molecular Machinery
Making the Future packages and site licenses are also available.
Contact
us for more information.

________________________________________
A Look at TRN's Making the Future report on quantum cryptography