One of the promises of nanotechnology is the ability to make very precise materials by growing them molecule-by-molecule.

Researchers from San Jose State University have found a way to coax tiny, three-dimensional structures to form on graphite, which conducts electrical current, and sapphire, which blocks electricity.

The method allowed the researchers to construct a honeycomb-like structure of walls with a wire rising from each junction between walls. The nanowalls and nanowires are about 80 nanometers thick, which is about eight times narrower than the diameter of an E. coli bacterium.

The structures could eventually be used in devices that convert and store energy and in data storage devices, according to the researchers.

Key to the researchers' method is adding a thin film of gold at key places on the graphite or sapphire substrate that chemically spurs the growth process of the tiny structures. The researchers controlled the process by adjusting the spacing and thickness of the gold catalyst.

The method could be used in practical applications in two to five years, according to the researchers. The work appeared in the May 23, 2003 issue of Science.



Page One

DNA makes nano barcode

Study reveals Net's parts

Recommenders can skew results

Light pipes track motion

News briefs:
Material helps bits beat heat
Process puts nanotubes in place
Printing method makes biochips
Tiny T splits light
Tiny walls sprout nanowires
Big sites hoard links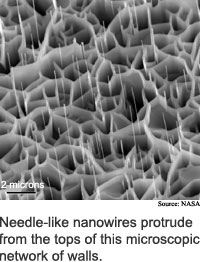 Research Watch blog

View from the High Ground Q&A
How It Works

RSS Feeds:
News

| Blog



Ad links:
Buy an ad link