Researchers from Kyoto University and the Core Research for Evolutional Science and Technology (CREST) have devised a system that combines visual monitoring and simulation to allow a remote staff person to help visitors around a large-scale public space.

The transcendent communication system includes a simulation that mirrors a real-world public space. This works as a graphical user interface that gives a remote staff person a birds-eye or an on-the-ground view of any given visitor or group of visitors.

The system includes a method for connecting unlike audio channels including staff microphones and visitors' cell phones. To communicate with a visitor, a staff person touches the representation of a person or group of people in the simulation.

The set-up makes the remote conversation more like a face-to-face conversation than a public address system announcement, according to the researchers.

The researchers tested the system in the central train station in Kyoto, using 28 vision sensors and 15 processors to capture and simulate the scene. They also tested the system at a large public park where visitors carried hand-held computers that contained global positioning systems.

The researchers also used the system to test crowd evacuation strategies, and found that the birds-eye view was necessary to grasp a crowd's behavior.

The method could be used in practical applications in five to 10 years, according to the researchers. The researchers presented the work at the Computer-Human Interaction (CHI) 2004 conference in Vienna, Austria, April 24 to 29.



Page One

Software fuse shorts bugs

Holograms enable pocket projectors

Memory cards make connections

Interface blends screen and video

Briefs:
Paper promises better e-paper
Birds-eye view helps guide public
Nanotubes boost neuron growth
Chip protects single atoms
Mega video enables virtual window
Method tests molecular devices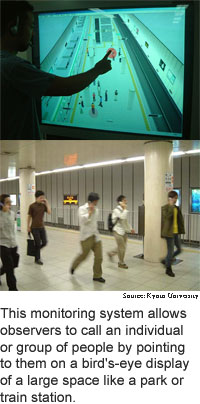 Research Watch blog

View from the High Ground Q&A
How It Works

RSS Feeds:
News

| Blog



Ad links:
Buy an ad link