Making smaller -- and therefore faster -- computer chip components with today's lithography equipment is a challenge. The method involves etching features using chemicals and light beams, but light can only be focused down to about half the length of the wave.

Today's chips sport features as small as 90 nanometers. The ultraviolet wavelengths commonly used in chipmaking measure 248 and 193 nanometers.

One way to focus light more tightly is to shine light through an opening positioned much closer to a surface than the size of the light's wavelength. Researchers from the Max Born Institute for Nonlinear Optics and Short Pulse Spectroscopy in Germany have designed a photonic crystal lens that can focus near-field light to a spot one-quarter of the light's wavelength.

The device can be used to make smaller, faster computer chips and memory. It could also be used in super-resolution microscopes.

Photonic crystal is material that contains regularly spaced rods or holes. Photonic crystal blocks specific wavelengths of light, and researchers have found ways to use the material to bend light waves more sharply than is possible with ordinary lenses.

The researchers' design calls for photonic crystal that contains cross-shaped holes. The scheme promises more intense light than the near-field systems that use tiny fiber-optic tips, and smaller spots than systems that use tiny drops of liquid to focus light, according to the researchers.

The method could be put to practical use in three to six years, according to the researchers. The work appeared in the December 27, 2004 issue of Optics Express.



Page One

Atomic scopes eye living tissue

Brainwave interface goes 2D

Software ties marks to digital text

View from the High Ground:
Xerox's Hervé Gallaire

Briefs:
All-silicon chip laser demoed
Nanotubes crank out hydrogen
Nanotubes on plastic speed circuits
Lens design promises tight spots
Silicon nanocrystal transistor shines
Nano triangles concentrate light
Musical additions sound alarm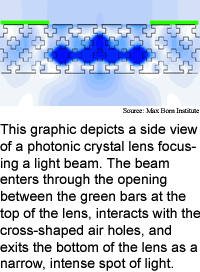 Research Watch blog

View from the High Ground Q&A
How It Works

RSS Feeds:
News

| Blog



Ad links:
Buy an ad link